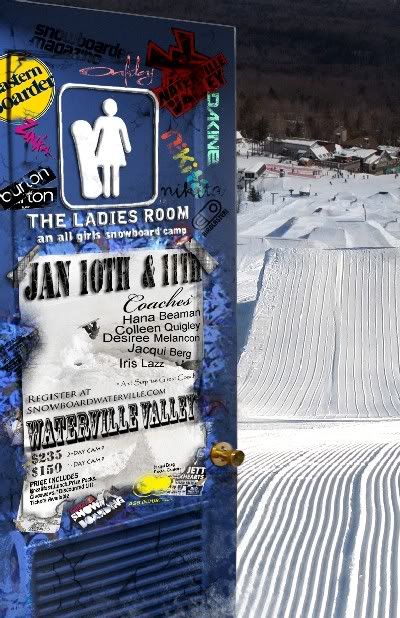 The brainchild of Waterville Valley team rider, Colleen Quigley, The Ladies Room is an all girls snowboard camp for ages 8+. This unique camp features coaching from top female professional snowboarders, that include Hana Beaman, Jacqui Berg, Desiree Melancon, Iris Lazz and a special guest to be named later. The Ladies Room will cater to all levels of female snowboarders with a focus on terrain park riding. Whether you are learning how to approach a double barrel rail or dialing a frontside 180 off a medium-sized tabletop jump, The Ladies Room will teach you all you need to know.
The two-day price will be $235 and includes all day coaching, breakfast, lunch, prize packs and giveaways from sponsors: Burton Snowboards,
EasternBoarder
, Nikita, Snowboarder Mag, Oakley, Dakine, Red Bull, Air Blaster, A.S.S Industries and Zinka . This camp isn't all about riding, you also get the pure satisfaction and bragging rights that you got to ride and hang with five of the most progressive female snowboarders in the world.
There will also be a one-day camp option for either Saturday or Sunday costing $150. Spots for the one-day camp will be limited. Discounted lift tickets available at registration for non season pass holders.
Register
here
now to secure a spot for the most unique all girls camp in the country!